Mirasoul Additive is added in the fuel tank just after the end of filling. It works on the principle of degradation of fuel molecules to the smallest possible particles. With this the fuel changes structure and consequently improves quality and caloric value. Mirasoul additive is based on organic oil (without additional acetyl, benzene, etc.) and it does not cause any harmful side effects. It is suitable for all diesel engines and generators.
| | |
| --- | --- |
| no aditive (160x zoom) | with aditive (160x zoom) |
| |   |
An additive for diesel and biodiesel fuel. Compatible with all diesel engines and generators.
High quality additive which positively effects working of diesel engines of transport and industrial vehicles, generators and machines.
Reduces fuel consumption, increases torque and, consequently, power of the engine.
Enables better fuel flow, fuel spray and combustion.
Effects tractive power, optimal mixing of fuel and air, softer drive and quieter engine.
Oils, cleans and protects fuel injectors, pumps, filters, cylinders and turbochargers. Therefore, it enables optimal working of the engine, decreases its abrasion, prevents rusting and prolongs lifespan of the system.
It is also a useful additive for storing fuels; it decreases corrosion and the necessity of often reservoir and equipment cleaning.
Enables smooth engine running in the winter at low temperatures. It increases fuel combustion and faster and smoother ignition.
With its abilities Mirasoul Additive decreases the content of soot parts and other gases in the exhaust, which enables us to directly help at preserving the nature.
… Shortly …
 Decreases soot and consequently pollution,
decreases fuel consumption,
prolongs life span of the engine,
increases torque and power of the engine,
oils and protects the engine,
improves combustion quality,
prevents dregs in the fuel supply system,
effects on optimal mixing of fuel and air,
prevents corrosion,
enables smoother driving and quieter engine running,
enables quicker ignition and engine working  fluently at lower temperatures.
Usage and dosage:
We add Mirasouls Additive in 1:1000 ratio.
Example: 1L of an additive is sufficient for 1000L of diesel or biodiesel fuel. (60 ml of an additive into 60 liter car reservoir)
It is highly recommendable to use the additive regularly and without interruptions for better and more permanent effects.
We never dose less than necessary, rather more. Overdose is not possible.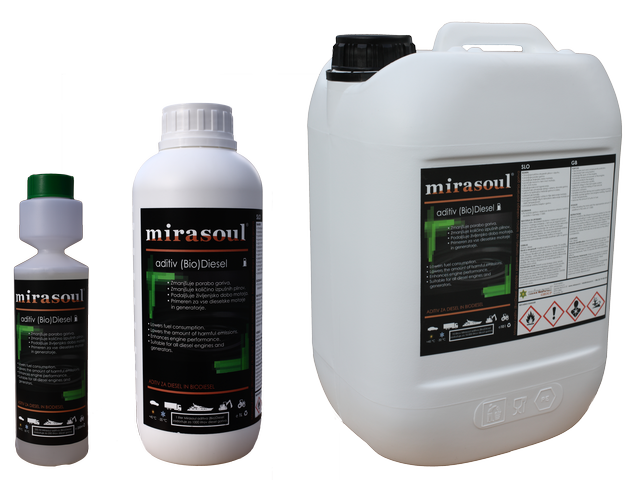 IMPORTANT!!!
Mirasoul Additive should be added at the end of every filling!!!